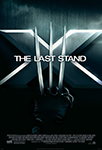 Endlich wieder Wolverine. Dass er der coolste Mutant ist, steht ja schon lange fest, aber ob er auch der stärkste ist ??
Eine berechtigte Frage, denn in X-Men: The Last Stand erleben viele prominente Mutanten nicht das (vorläufige) Ende der Saga, einige überstehen nicht mal die ersten 30 Minuten ! Wie immer gibt es in Teil 3 auch neue Leute, von denen allerdings nur Beast – angeblich Kelsey "Frasier" Grammer – und Callisto erwähnenswert sind. Juggernaut Vinnie Jones und vor allem Angel, der noch im Trailer groß rauskam, spielen keine besondere Rolle.
Ach ja, die Story: Als Jean Grey Wiederauferstehung feiert, haben sich Cyclops und Wolverine zu früh gefreut – die nette Jean war gestern, jetzt kommt Phoenix. Unterdessen ist es Magneto und seiner "Bruderschaft" ein Dorn im Auge, daß ein Pharmaunternehmen ein Heilmittel für mutierte X-Gene gefunden hat. Prompt fangen sie Streit an, und marschieren auf Alcatraz.
Alcatraz ?! Ob die Pharmafirma wohl nur deshalb dort ihr HQ aufgeschlagen hat, damit Magneto die Golden Gate Bridge verbiegen kann ?
Es endet jedenfalls, wie es vor 6 Jahren mal begonnen hatte: mit Wolverine.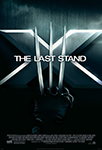 Wolverine is back at last ! No doubt he's the coolest mutant, but is he the most powerful as well ??
Now that is a legit question, since many of the well-known mutants in X-Men: The Last Stand don't see the end of the saga, some don't even survive the first 30 mins ! As usual, part 3 has got new characters of whom only Beast (reputedly Kelsey "Frasier" Grammer) and Callisto are worth a mention. Juggernaut Vinnie Jones and esp. Angel, being really big in the trailer, hardly play a role at all.
Which brings us to the storyline: Jean Grey's resurrection makes Cyclops and Wolverine wanna party, but fun is spoiled since former nice Jean turned into Phoenix. Meanwhile, Magneto and his "Brotherhood" are pissed off because some pharmaceutical company has developed a cure for mutated X-genes. Starting the hostilities, the Brotherhood marches for Alcatraz.
Alcatraz ?! Could it be that company only chose to have HQ there so Magneto can bend Golden Gate Bridge ?
Anyway, after 6 years it all ends where it once began: with Wolverine !