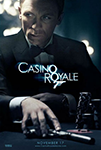 Endlich, Casino Royale im Kino.
Le Chiffre hat ausser seiner Hackfresse zwar nicht so viel zu bieten, aber Daniel Craig und die Action stimmen.
Die anderen Kleinigkeiten wie den Defibrillator und Felix Leiters überflüssigen Mini-Auftritt kann ich verschmerzen…

Da ist ja dieser neue James-Bond-Film ein Witz gegen das, was in Wirklichkeit passiert.
Claudia Roth, Bundesvorsitzende der Grünen, zum tödlichen Giftanschlag auf den russischen Ex-Spion Alexander Litwinenko.
Montag, 27.11.2006
Litwinenko hatte halt keinen Defibrillator im Auto…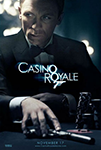 At last, Casino Royale hit cinemas.
Don't think Le Chiffre is that worth it apart from his looks, but Daniel Craig and the action are tops.
The defibrillator scene and needless Felix Leiter are minor flaws I can live with…