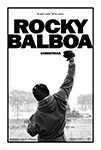 It ain't over 'till it's over.
Crank. The Black Dahlia. The Devil Wears Prada. Nacho Libre. Talladega Nights: The Ballad of Ricky Bobby. Borat: Cultural Learnings of America for Make Benefit Glorious Nation of Kazakhstan. Casino Royale (!). Rocky Balboa.
Guess I will be busy keeping up with all these movies !