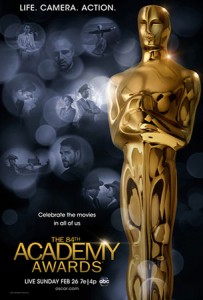 Meine Favoriten: siehe unten.
Die kursiven Kandidaten habe ich nicht gesehen – womit sich Tips für Supporting Actress & Actor erübrigen.
The Descendants hätte ich in den letzten Wochen sehen können, hatte aber offensichtlich kein Bock. Wehe, der gewinnt.
Und The Help lief in Deutschland im Oktober (WTF?), ist mir komplett entgangen. Na dann halt nicht, The Help!!

Best Picture
War Horse
➡ The Artist
Moneyball
The Descendants
The Tree of Life
➡ Midnight in Paris
The Help
Hugo
Extremely Loud & Incredibly Close
Best Director
➡ Michel Hazanivicus, The Artist
Alexander Payne, The Descendants
Martin Scorsese, Hugo
➡ Woody Allen, Midnight in Paris
Terrence Malick, The Tree of Life
Best Actress
Glenn Close, Albert Nobbs
Rooney Mara, The Girl With the Dragon Tattoo
Viola Davis, The Help
Meryl Streep, The Iron Lady
Michelle Williams, My Week With Marilyn
Best Actor
Demian Bichir, A Better Life
George Clooney, The Descendants
➡ Jean Dujardin, The Artist
Gary Oldman, Tinker Tailor Soldier Spy
Brad Pitt, Moneyball
Supporting Actress
Berenice Bejo, The Artist
Jessica Chastain, The Help
Melissa McCarthy, Bridesmaids
Janet McTeer, Albert Nobbs
Octavia Spencer, The Help
Supporting Actor
Kenneth Branagh, My Week With Marilyn
Jonah Hill, Moneyball
Nick Nolte, Warrior
Christopher Plummer, Beginners
Max von Sydow, Extremely Loud & Incredibly Close