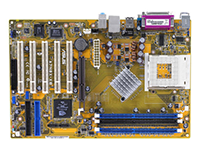 …und es hat lediglich zu einem neuen Sockel A-Board gereicht.
Das ASUS A7N8X-XE bringt mich technologisch zwar nicht vorwärts, kostet aber nur EUR 50.

Von Begeisterung getrieben hab ich meine Maschine also komplett auseinandergenommen und das Mainboard getauscht. Nach ewiger Frickelei mit dem Prozessorkühler war die Kiste dann schnell wieder zusammengebaut.
Sehr freudig überrascht war ich, dass neben einer erneuten Aktivierung keine Win XP-Neuinstallation notwendig war (, obwohl wahrscheinlich sehr ratsam).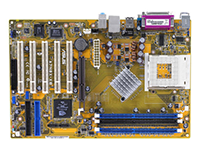 …and all I got was a new Socket A board.
The ASUS A7N8X-XE does not mean any technological progress but only cost me EUR 50.

Driven by ecstasy, I disassembled my machine and replaced the mainboard. Had to fight the biatch of a CPU fan for ages, then put everything back together quickly.
Was very pleased to see that I just had to activate Windows XP again and no full re-install was required (although that would probably be highly recommendable).