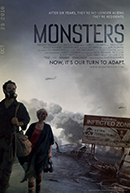 Nr. 23 dieses Jahr: Monsters ist ein Road Movie inklusive Aliens. Hat mir gut gefallen.

So. Jetzt zur Preisverleihung:
Bester Film 2010 war The American.
Honorable Mentions: Machete, The Expendables, Hot Tub Time Machine und Megamind. Die saure Gurke geht an Wall Street 2.
Vielleicht gucke ich nächste Woche noch Skyline, das wars dann aber auch 2010.