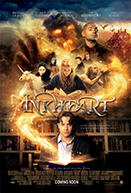 Rick O'Connell v Gollum: The Mummy Lord Of The Rings Mashup (of my dreams)
Paul Bettany als Staubfinger und "der (CGI-) Schatten" sind recht cool, aber insgesamt ist der Film ein wenig zu lahm.
Ich glaub es liegt am Setup "Flucht von Gollums Burg" – "italienische Adria" – "Rückkehr zu Gollums Burg".
P.S.: Tintenherz, nicht Tuntenherz.