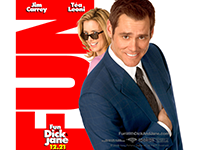 Ziemlich lustiger Film ! Beste Szenen spielen sich ab
nachts an der mexikanischen Grenze
im Schwarzlicht eines Tattoo- / Piercing- / Fetischladens
in "Sonny & Cher"- Verkleidung, mit Téa Leoni als Sonny und Jim Carrey als Cher
bei einem nächtlichen Überfall, als Dick den Vocoder (Stimmenverzerrer) etwas überstrapaziert.
Dick und Jane (…) ist auf jeden Fall einen Kinobesuch wert.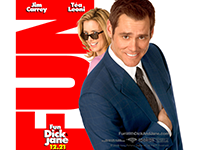 Really funny movie ! Best moments are
at the Mexican border at night
in the UV light of a tattoo / piercing / fetish shop
disguised as "Sonny & Cher", with Téa Leoni as Sonny and Jim Carrey as Cher
on a nightly raid, when Dick uses his vocoder to the maxx.
Fun With Dick And Jane is definitely worth a look.