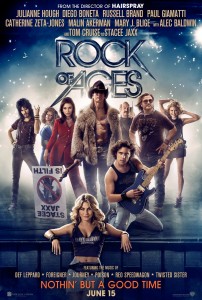 Tja. Wie schreibe ich etwas über diesen Film, der für manche Menschen belangloser Glam-Rock-Hair-Metal-Kitsch sein dürfte, für mich allerdings ein Volltreffer ist?
Ich betone die grundsätzlichen Wahrheiten, die Rock of Ages sichtbar macht.

1. "Don't Stop Believin'" von Journey ist der allerbeste Song aller Zeiten.
Fragt man sich ja oft so: "Was ist das beste Lied der Welt?"
Search no further, my friend. Don't Stop Believin' ist der Kern von Rock of Ages.

2. Tom Cruise ist ein Moviestar.
Über das Rumgehopse auf Oprahs Couch, Scientology und sein sonstiges Privatleben mag man denken was man will, aber wie er in Rock of Ages Bret Michaels und Axl Rose channelt ist unfuckinbelievable.
Bonusvideo: Springsteen, Sting, Elton John und Gaga haben es auch verstanden.